GNMH Services and Facilities Updates
Open Access Walk-In Services are Open
For new clients, our Open Access Walk-In Services are available at our 440 Amherst Street, Nashua, facility on Mondays through Thursdays, from 8:00 a.m. to 11:30 a.m. Clients are seen in the order in which they arrive, and if it is a busy morning, please be prepared to wait. However, you will be seen that day and receive an assessment as long as you arrive between the above hours. For more information, please call
(603) 889-6147.
We are still doing everything to ensure that the safety of our clients and staff remain our top priority. Please see Screening and Entry Procedures below.
All Services Other Than Open Access
Please note that all services other than Open Access will still be by appointment only until further notice. We appreciate your patience and cooperation as we continue to work to keep everyone safe and healthy.
COVID Rapid Response Services
We know that the pandemic has resulted in a lot of anxiety and fear for all of us. Some people are experiencing debilitating mental health or substance use disorder symptoms for the first time in their lives. Those in recovery have found that their symptoms were worsened by all the stress.
We've Got You Covered
Call (603) 889-6147 and tell the Client Access professional that you would like to find out about COVID Rapid Response.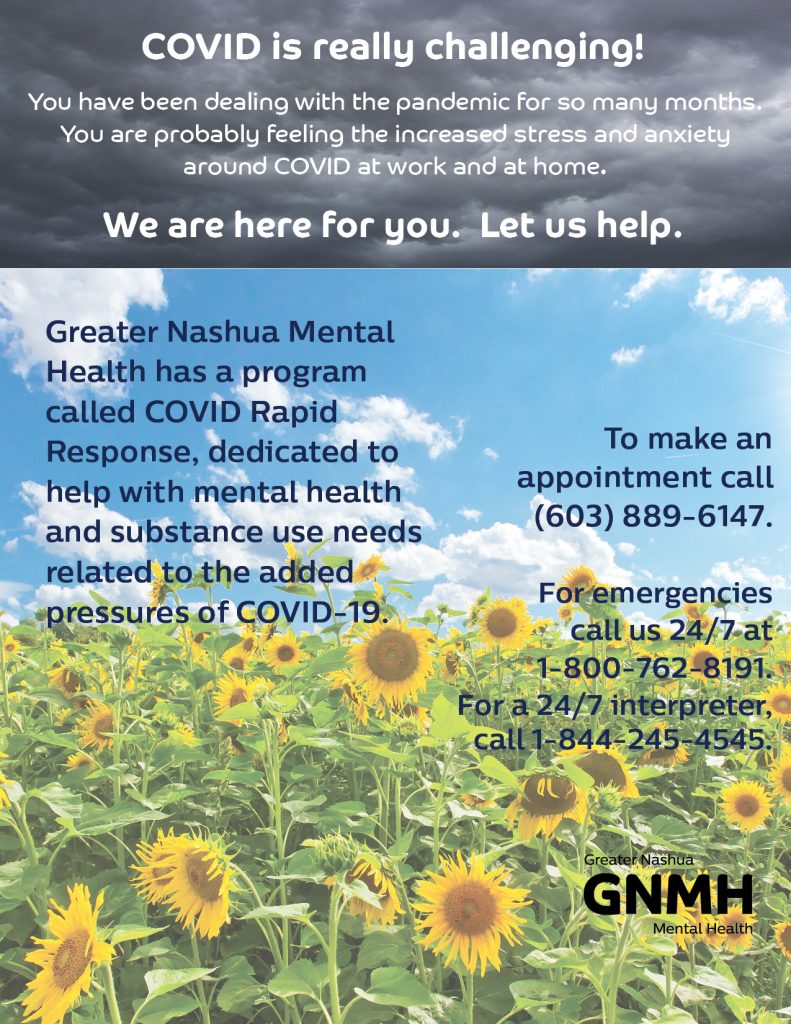 ---
Screening and Entry Procedures
We have screening and entry processes in place to ensure everyone's safety. All individuals entering our buildings will be asked the following screening questions. Please do not come to the offices if you would answer "yes" to any of the following questions.
Have you been in close contact with a confirmed case of COVID-19
Have you had a fever or felt feverish in the last 72 hours?
Are you experiencing any respiratory symptoms including congestion or runny nose, sore throat, cough, shortness of breath, or difficulty breathing?
Are you experiencing any new muscle aches or chills?
Have you experienced any new change in your sense of taste or smell?
Are you experiencing fatigue, diarrhea, nausea, or vomiting?
Please note the following expectations of any person entering our facilities.
All individuals entering our buildings will also have their temperature taken. Anyone with COVID-related symptoms or a temperature of 100 degrees or above will be rescheduled to a Telehealth visit or to a later time.
All individuals in our buildings will be required to wear a mask . If you have a mask, please wear it into the building. If you do not have a mask, we will gladly provide you with one.
Please use the hand sanitizer we have provided in the lobby and in various places throughout the building.
We are asking for your patience when you arrive. For everyone's safety we must allow time between patient appointments to allow for cleaning.
---
Telehealth
Many services continue to be offered outside of the office through Telehealth. When your appointment is scheduled, you may have an option of coming into the office or speaking to your provider through video or telephone. Please call us at (603) 889-6147 if you need to verify if your appointment is via telephone, video or in the office.
As always, our 24/7 NH Rapid Response services are available. We remind you to always call if you feel unsafe, suicidal, or have any feelings of hurting yourself! You do not have to be a current GNMH client. Call or text 1-833-710-6477. You can also chat at NH988.com.
---
Nuevos Números de Teléfono para Personas que No Hablan Inglés
¡Atención personas que no hablan inglés! ¡Ahora puede llamar a estos nuevos números de teléfono permanentes para acceso de servicios directamente a través de un intérprete!
Teléfono principal- Llame al 1-844-245-4458

---
Resources & Verified Information
In our world of social media, varied news sites, and 24/7 information, it's so important to read verified, fact-based sources for updates and resources you can use to stay healthy.