Empowering Individuals to Reach Their Full Potential
Overcoming a substance use disorder can be an incredibly difficult challenge and the national conversation around addiction has evolved drastically over the last decade. For many affected families, this has driven a great need for comprehensive, effective treatment services and supports.
Our Substance Use Disorder (SUD) program offers clients an array of outpatient services tailored to adults and their families and GNMH is a preferred provider for many major insurance companies serving New Hampshire, including Medicaid.
How It Works
Our substance use disorder curriculum emphasizes early recovery and relapse prevention skills and is enhanced by providing education about the medical aspects of addiction, as well as teaching clients effective mindfulness practices.
We utilize the Matrix® Model, delivering evidence-based, outcomes-driven substance misuse treatment of exceptional quality.
Our outpatient services include:
Assessment
Substance use evaluations by specialized licensed professionals
Individual counseling
Intensive Outpatient Program (IOP)
Relapse prevention groups
Group therapy
Medication Assisted Therapy (MAT) (currently Vivitrol and Naltrexone)
Family and couples/partners counseling
Participants may continue to work or remain in school while receiving high quality treatment.
Family group is included, to which clients are encouraged to bring a supportive family member or friend. As a continuing means of support, this group remains open to family members even after their loved one completes treatment.
If you find yourself or a loved one struggling with both a mental health and a substance use disorder, our Integrated Dual Disorders Treatment (IDDT) program could be for you. Find out more here.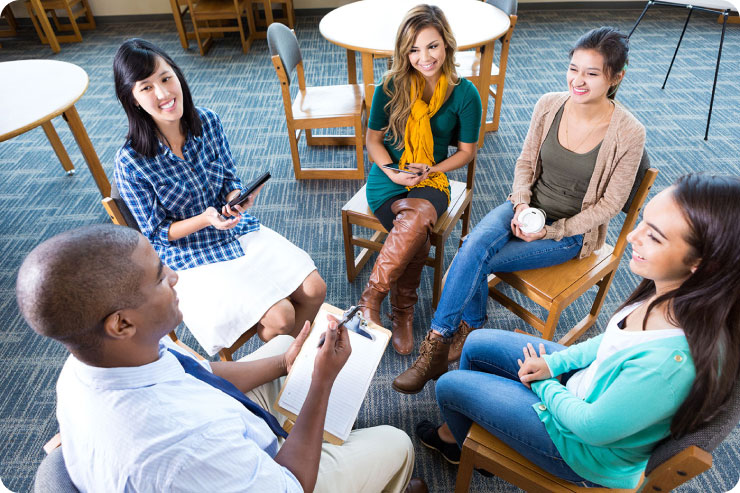 Recognized for Results
Greater Nashua Mental Health is the primary service provider for the Southern Hillsborough County Drug Court treatment program for clients whose substance misuse has resulted in involvement with the justice system. Statistics show that it is a more effective approach to recovery than traditional methods and the results are very encouraging.
Our agency's treatment program for substance use disorders is also the first on the East Coast to be honored with the Certificate of Excellence by the renowned Matrix Institute on Addictions.

Let's Break The Chains of Substance Misuse
The community Intensive Outpatient Program (IOP) for current GNMH clients runs groups on Monday, Wednesday and Friday, from 9:00 a.m. – 12:00 noon. The number of IOP sessions is determined individually, according to each client's progress. We also offer a separate IOP group for Drug Court clients, which meets Monday, Wednesday and Friday from 8:30 a.m. to 11:30 a.m.
If you have any additional questions or concerns, please do not hesitate to contact our Substance Use Disorders services team at (603) 889-6147. For an intake assessment, please take advantage of our Open Access walk-in services on Tuesday through Thursday, from 8:00 a.m. to 11:30 a.m.